About Us
Since 2000 our textile manufacturing company has been producing Mil-Spec Elastic and Mil-Spec Webbing to prime government contractors for the military clothing and individual equipment.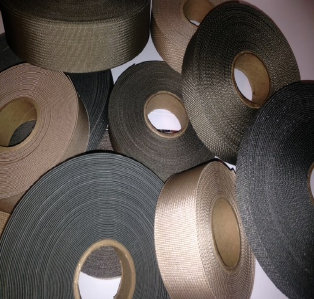 Our webbing is being used as trims, waistbands suspenders, goggle straps, etc. Elastic webbing is manufactured in 3/8" to 5" in widths and rigid webbing from 3/4" to 3" in cotton, polyester, nylon, spun/poly and solution dyed yarns. Webbing is finished with resin treatment, water repllent, and spectra-reflectance.
Top Quality Webbing Produced with Family Pride!




NARROW WOVEN ELASTIC AND WEBBING!
K & W Webbing Co., Inc.
403 Roosevelt Avenue - Central Falls, RI 02863
Contact: Tel 401-725-4441 - Fax 401-725-3483 - Sales Email: kwwsales @aol.com
© Copyright: K & W Webbing Co., Inc.
MIL - SPEC
WEBBING
EA-W-1535
JJ-W-155
MIL-W-5664
PIA-W-5664
MIL-T-5038
MIL-T-43566
MIL-W-530
MIL-W-4088
MIL-W-5625
MIL-W-5665
MIL-W-17337
MIL-W-27265
MIL-W-43668
A-A-55301

Berry Amendment
Certs
I.R.
Shade Testing
Test Reports
COMPLIANCE
MADE IN USA